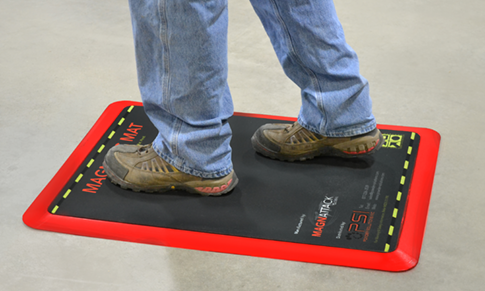 Food Processing Plants Weigh-In on Benefits of MAGNATTACK™ Magnetic Mats
Metal contamination is a common sanitation concern for every food processing plant. The safety, sanitation, quality of a product and ultimately the company's bottom line depends on ensuring metal contamination isn't an issue. In fact, according to a white paper from Tyco Integrated Security, the average cost of a food recall $10 million.
Food processing plants nationwide have started looking to the MAGNATTACK™ magnetic mat to aid in the prevention of metal contamination.
MAGNATTACK™ magnetic mats are designed to reduce metal fragment transfer and increase food safety by controlling ferrous metal fragments from being walked into sensitive food, beverage and meat production areas. They're also effective on weakly metal fragments that can be missed by other types of magnets. Over 200 magnets in each Mat including RE80™HT – one of the highest energy Rare Earth magnets of modern technology.
The development of the metal fragment control mat was to maximize retention of weakly charged magnetic stainless steel shavings and magnetic stone fragments as these can get milled up and show as unwanted specks in final products – too fine for rejection by metal detectors.
But don't just take our word for it. Here's what some MAGNATTACK™ magnetic mat users have to say:
"It's a very effective tool. We collect the metal off it and analyze the quantities collected each week. Great for keeping track of metal coming in… It works well, easy to clean and maintain – great food safety initiative."  – A major dairy processor
"It's really a great GMP tool. Not only does it provide greater protection from metal shavings and the like coming into our production area but we are seen as taking really good initiative – our Auditors loved them!"  – A poultry processing company
"Fantastic idea… the best I've seen yet….. We didn't realize how much metal would be stopped by the magnet… absolutely amazing!" – A cereals processing company
(Source: MAGNATTACK™ Global)
MAGNATTACK™ magnetic mats are easy to install and maintain, and come with certified strength and HACCP International food safety endorsements. And while these magnetic mats are ideal for food processing plants, they can also be useful to the pharmaceutical industry or any other manufacturer looking for additional ways to control metal transfer.
The system:
Retains work hardened stainless steel fragments, shavings and magnetic stone chips
Anti-Soiling
Contains RE80™ Magnets
Certified and endorsed by HACCP International
Currently appreciated by major food industries in Australia, New Zealand, USA, Canada & UK
What users are finding is that along with small metal; particles, drillings, shavings and the like, the magnet is also proving useful for collection of magnetic dust. This means that less dust is being "walked" around and less dust is hanging in the air we breathe. So in terms of overall safety improvement, this is a great tool. One of the many benefits is that the Mat is so easily cleaned, as well.
Powder-Solutions, Inc.  is a go-to source for MAGNATTACK™ products in the United States. Learn more about the MAGNATTACK™ magnetic mat by watching a short YouTube video.