Custom dust collection systems by Powder Process-Solutions are specifically designed to achieve and maintain high levels of sanitation while enhancing air quality and safely meeting the needs of your unique processing specifications. By safely and efficiently capturing, conveying, collecting, and discharging combustible dust, contaminated air and explosion hazards are significantly reduced.
Our dust collection equipment is expertly designed with enhanced equipment features and options to achieve optimum filtration efficiency while maintaining low energy consumption and long bag or filter life. Top- and bottom-load designs are also available and are specifically designed for either high efficiency filter bags or filter cartridges.
Features
Stainless and carbon steel construction
Coating & finish options
Sanitary designs, such as USDA & Dairy
Pressure or vacuum rated (+/- 17" WC)
Removable top and bottom filter design
Reverse pulse jet filter cleaning
NEMA 4 enclosed solid state timer board
High efficiency filter bags or cartridges
Modular designs including clean and contaminated air plenums as well as modularly designed hoppers
Options Include
Exhaust fans
Tangential inlet and outlet baffle configurations
Internal support grids
Pulse-on-Demand filter cleaning
Explosion venting and suppression
Support legs and platform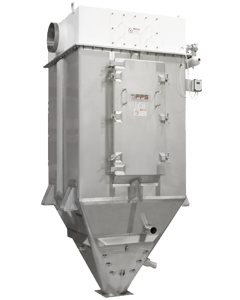 Do you process food, dairy or nutritional powders? Connect with us!