MAGNATTACKTM MAGNETIC SEPARATORS
Whether you're responding to a metal contaminant situation, or positioning yourself to avoid metal contamination and recalls, incorporating MAGNATTACK™ magnetic separators is a smart and efficient addition to your powder processing system.
Each MAGNATTACK™ item has superior design elements to provide the best product protection. Quick-clean or self-cleaning capabilities, sanitary design features, dust-tight construction, 10,000+ gauss rare earth magnets, and proven magnetic separation proficiency are just some of the notable features that separate them from the competition. These design elements combine to provide the strongest, safest magnetic separation component for your processing facility!
MAGNATTACK™ magnets will revolutionize the way you remove magnetic contamination from processing lines. MAGNATTACK™ has been serving the food and dairy industries with solutions for metal fragment removal since 1969, and strives to provide the best in high strength, easy-to-clean magnetic components. All MAGNATTACK™ items focus on sanitary, dust-tight designs while incorporating high strength, 10,000+ gauss rare earth magnets. Available magnetic separators were designed to attack both small, ferrous materials and large metal contaminants. View full range of MAGNATTACK™ equipment PDF >
Powder Applications
Horizontal Pipeline Separator
The MAGNATTACK™ Horizontal Pipeline Separator (HPL) features a high-intensity RE80™ magnet element configured to remove weak magnetic contamination from powder and liquid processing lines. This helps to improve the purity of your product and protect your brand against foreign contamination complaints.
The HPL is available with our special Tear Drop Probe (patents pending) for optimum flow of product and retention of weak magnetic fragments.
The MAGNATTACK™ Tear Drop Probe received USDA acceptance in 2015.
Design Features
Eccentric housing prevents collection of product, CIP liquids and dead material
Extra high gauss on base provides maximum collection of fragments in common area during horizontal/sloping applications
Tear drop probe design for optimal product flow
Sanitary SS food grade RA-1 finish
Powder Transfer Magnet
The MAGNATTACK™ powder transfer magnet (PTM) has been custom designed in answer to customers' needs for a sanitary model that suits sensitive dairy powder pneumatic transfer lines and meets USDA sanitary standards. The PTM incorporates key design features of the Spherical Pneumatic Transfer Magnet, providing highly efficient separation of metal fragment contamination from sensitive dairy and pharmaceutical powders without experiencing bulk density or blockage problems.
The PTM features high-intensity RE80™ >11,000 gauss magnet elements configured to remove weak magnetic contamination and work hardened stainless steel fragments and stone, thus increasing food safety control and product purity.
Design Features
Effective fragment control in high-velocity transfer lines
Aerodynamically designed to minimize bulk density breakdown and blockage
Models available in 3"-6" pipelines
All models are meet USDA Dairy sanitary standards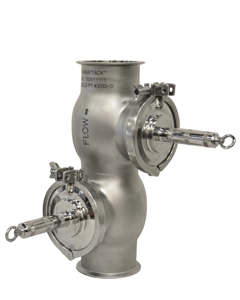 Round Pipeline Separator
The round pipeline separator is an inline pneumatic convey line magnet designed for horizontal, vertical, or sloping installations. It efficiently captures ferrous material from dilute phase pressure and vacuum product streams.
Housing of the round pipeline separator bulges around the magnet rod to create a consistent cross-section area to maintain product velocity. Available teardrop shaped magnet rod prevents product degradation. Aerodynamic design provides improved separation efficiency with high strength 10,000-11,000 gauss magnets.
A tri-clamp magnet flange with handle makes the magnets easy to remove and clean at any location in your powder processing plant.
Design Features
Single or double entry magnet options
Housing bulges around magnet rods for consistent cross-section areas
Pipelines 1"-6" available
Suitable for abrasive, granulated products such as sugar, lactose  and salt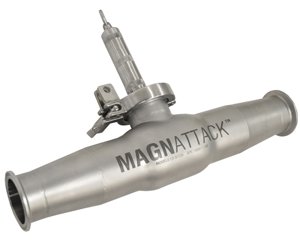 Spherical Pipeline Magnet
Spherical pipeline magnets consist of an incredibly high strength magnetic element with flux strengths ranging from 10,000 gauss to over 12,000 gauss in some models. Magnets offers efficient extraction of tramp iron – large, small, fine & rust as well as work-hardened stainless steel fragments using RE80™ technology.
In addition, the magnetic element is configured to offer excellent retainability of metal fragments so that they are not pushed back into the product stream by the force of product traveling at a high velocity through the pipeline or transfer line.
This spherical pipeline magnet is aerodynamically designed to also allow for use in gravity out feed situations and on food products containing particulates up to 15mm with low resistance to flow. Magnets can be installed for collection without blockage, while providing a low cost of installation to existing lines.
Design Features
Aerodynamic design prevents blockage of product and minimizes product particle breakdown
Optimum product stream coverage enables highly efficient separation of weak to highly charged magnetic fragments
11-12,000 gauss strength spherical magnet element
Ideal for starch, powders, flours and ingredients
The MAGNATTACK™ range of spherical pipeline magnets have been carefully configured and designed using only the highest grades of material for use in sensitive food applications.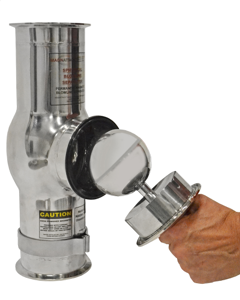 Liquid Applications
Liquid Pressure Pipeline Magnetic Separator
The MAGNATTACK™ liquid pressure pipeline system features double or single RE80™ +11,000 gauss magnet elements. These magnets are designed to intercept the flow of liquid product lines, then extract and retain foreign magnetic fragments such as work-hardened stainless steel and stone particles, fine wear fragments, and rust.
The liquid pressure pipeline separator is safe, efficient, hygienic, and easy to clean.
The system consists of a special pressure vessel housing design that is hydrostatic pressure tested to 400 PSI. A certificate is provided with every supply.
Inline probe style models are available for 1"-6" pipelines. The powerful magnets intercept the flow of product providing 10,000 gauss protection.
Design Features
Efficient magnetic separation for food safety without leaks, blockage, or distortion
Suits products with lumps to approximately 0.4"
Can be used in pressure or vacuum lines
Jacketting where specified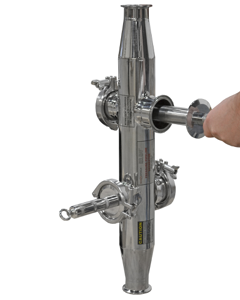 Magnet Filter Combo
The MAGNATTACK™ RE80™HT magnet filter ombo (MFC) provides a unique solution which attracts and retains fine microscopic metal contamination that escapes filters. The system is designed to complement foreign body control and provides an excellent measure for identification and analysis of collected metal contaminants.
The MFC design combines 316SS fine filtering systems and a high-temperature resistant RE80™HT magnet element which intercepts the flow of the product with minimal resistance and, at the same time, provides maximum product-to-magnet contact.
Design Features
Low maintenance & easy installation
Extraction of magnetic fragments, work hardened stainless steel and stone particles in viscous and non-viscous liquid food products
Suitable for 1" to 4" pipelines
Product and CIP cleaning temperatures to 302°F/150°C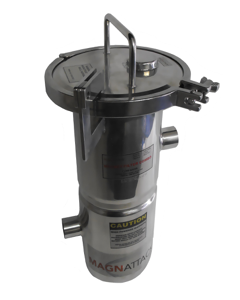 Flooring Options
Magnetic Mat
MAGNATTACK™ provides powerful magnetic mats designed to reduce metal fragment transfer and increase food safety by controlling ferrous metal fragments being walked into sensitive food, beverage and meat production areas. The magnetic mat design is often used at the entry into production areas from workshops, outdoor areas and construction zones on site.
The MAGNATTACK™ magnetic mat comes with certified strength and HACCP International food safety endorsements. The anti-soiling mat system is easily installed, easily maintained and easily cleaned. The metal trapped on the mat can be easily collected and analyzed by QA departments. Available to the food, beverage, meat and pharmaceutical industry, as well as any industry looking for additional metal transfer control opportunities.
Design Features
Hygienic, long-wearing top mat removes for easy cleaning
Durable polyurethane ramp eliminates trip hazards
Convenient 35" x 27" unit size
Captures and retains ferrous materials like magnet shavings, metal chips, fine wear iron, rust, and magnetic stone
This low maintenance, easy-to-clean mat enhances and improves food safety controls while being an excellent addition to continuous improvement programs.
For sales inquiries outside North America, please contact MAGNATTACK Global at #1800 835 858 or email magnets@magnattackglobal.com. Products are manufactured from http://www.magnattackglobal.com.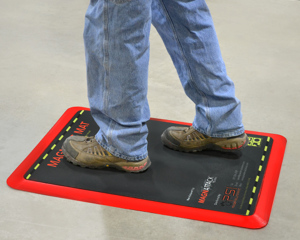 Request a Quote:
MAGNATTACK™ Magnetic Separators
Welcome to the world of innovative magnetic separators! With your information provided below, we will contact you shortly to discuss:
Types of magnets and their separate uses
Benefits of RE80™ magnetics
Costs associated with upgrading to MAGNATTACK™ magnetic separators
Do you process food, dairy or nutritional powders? Connect with us!