PPS bulk bag unloading systems offer safe, efficient, and dust-free methods that are essential when handling bulk bags. A range of equipment and options are specifically designed for your process needs.
Our modular designs allow us to provide the equipment best suited for your product and application. All BBU systems are constructed to meet your sanitation guidelines including attention to product contact constructions, welds, and surface finishes. Bag agitation, bag cinchers, spout stretchers, and other options may be added to increase efficiency and effectiveness of your BBU system.
The PPS bulk bag unloader system provides an easy and safe method to lift, support, and discharge bulk bags. By eliminating dust and spillage, precious product is saved, and worker safety is assured.
Our unique inflatable spout design seals the bag spout inward against the unloader spout. This not only ensures a dust-free discharge process, but also guarantees that no foreign material can enter the product stream. Only the inside of the bag liner contacts your process.

Features and Benefits

Stainless or carbon steel construction
Sanitary design
Full and half frame configurations
Inflatable seal spout connection for dust tight operation
Massaging or vibratory discharge aids
Bag cincher
Heavy duty, low profile lifting frame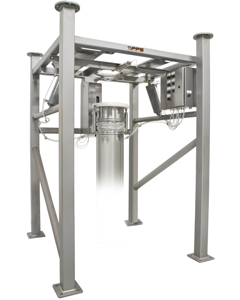 Options
Hoist and trolley systems
Loss-in-weight and other scale systems
Integral bag dump station
Sifters and lump breakers
Discharge valves
Integrated conveying systems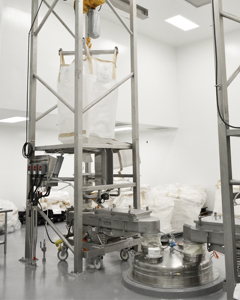 Discharge of product can be controlled with a variety of feed devices and weight controls to best suit your process requirements.
By understanding your material and special characteristics, we are able to suggest equipment finishes, unloader frame requirements, and other equipment specifications that will keep your equipment running at optimum efficiency. Modular design makes our unloader customizable to a variety of applications to meet your process requirements.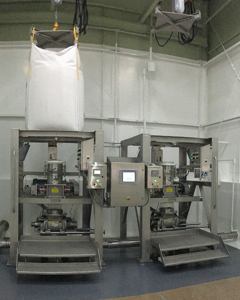 Do you process food, dairy or nutritional powders? Connect with us!