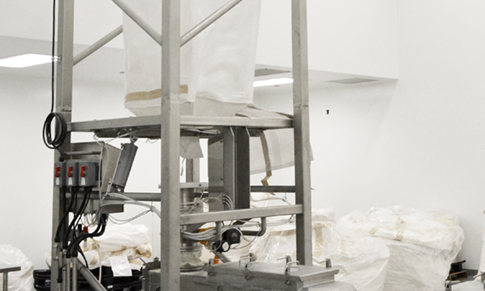 6 Awesome Benefits of Bulk Bag Unloaders
Purchasing powder product in bulk is not only a great way to improve efficiency in powder processing plants, but it can also help companies find significant cost savings. But in order to take advantage of all this and more, powder processing companies need to invest in a bulk bag unloader system that can be used to receive product and dispense it into the processing line.
Bulk bag unloaders, also referred to as bulk bag dischargers, come in a variety of designs—and can offer benefits beyond cost savings and improved efficiency. Below are just six of the benefits that bulk bag unloaders offer powder processors:
1. Decreases strain on resources.
Since bulk bag unloaders are able to receive and dispense material into processing lines, less manpower is needed to accomplish this task, which is a huge benefit to plants that have a smaller number of worker resources.
2. Reduces dust and product loss.
Bulk bag unloaders feature a dust-free discharge process to seal powder materials in, which means less product is lost during dispensing and safer, more pleasant working conditions for employees.
3. Improves sanitation.
Bulk bag unloaders are also designed to improve sanitation. For example, Powder Process-Solutions' bulk bag unloaders have a unique spout design that prevents foreign materials from getting into the product stream. Only the inside of the bag liner comes into contact with your product, offering superior sanitation and product protection.
4. Boosts productivity.
Bulk bag unloaders do the heavy lifting so operators can easily load, tie, untie and remove bags without having to reach into tight or hard-to-reach places. In addition, unloaders have intuitive and easy-to-use control panels that the operator can be quickly trained on.
5. Designs can be customized.
Bulk bag unloaders feature a modular design making it easy to configure to your specific needs. Options include:
Full and half-frame configurations
Hoist and trolley systems
Loss-in-weight integration and other scale systems
Integral bag dump station
Sifters and lump breakers
Discharge valves
Conveying system integration
6. Quality materials ensure durability.
Bulk bag unloaders come in stainless steel and carbon steel designs that provide strong, durable, long-lasting solution for unloading bulk materials.
PPS specializes in the customization of bulk unloading equipment. View our bulk bag unloader customization options, along with additional unloading equipment available in our brochure.