Installation
Whether you provide the construction personnel or entrust us with the successful coordination of resources, proper planning is the key to on-time installation of your powder processing system. Our onsite technical advisor provides a single point of responsibility and coordination. We focus on the safe installation of your new equipment and minimum interruption to your normal operations. PPS installation services promise a seamless, successful transition to your new system.

Commissioning
The commissioning process takes place once equipment is installed onsite. Proper commissioning ensures that your equipment operates correctly and that the system does what is expected. Depending on the scope, a mechanical and/or electrical engineer will be onsite during commissioning.
Our field engineers will write and execute a structured 3-step commissioning plan for installation qualification, operational qualification and performance qualification. This sets the stage for an expedited start-up process while minimizing the risk for errors and equipment damage.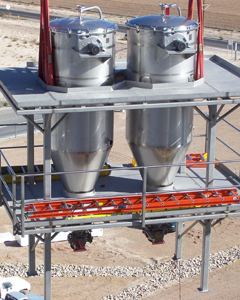 3 Step Plan
1. Installation qualification (IQ)
We first check that all equipment and controls are installed according to design specifications and the manufacturer's recommendations. All pieces of equipment are listed in a master worksheet that includes a project item number, description, comments, and a place for both the you and our engineer to sign off. This document is reviewed daily by our home office—along with P&IDs, PFDs, plans & elevations, general arrangement drawings and equipment-specific IQ checklists—to monitor progress and ensure a consistent, thorough and accurate evaluation of the installation. Our evaluation covers off on the following:
Position/orientation
Process connections
Utility connections
Tagging
Instrumentation
Equipment condition
Drawings
2. Operational qualification (OQ)
Once the IQ is complete, it's time to confirm the functionality of the control system. This starts with the I/O check to make sure all electrical components and instrumentation are wired, rotated and calibrated correctly, and everything is properly connected. We check load cells, level probes, pressure transmitters and more. Next, the field engineer runs through a pre-op checklist to verify the equipment is clean and primed for service. He or she will then put the system through its paces with a dry run. From that, a site settings table is created to record HMI selectable setpoints, pressure settings, times and other pertinent information. This table provides a starting point for dry and wet runs, and documents results as the system is dialed in to optimal performance.
3. Performance qualification (PQ)
The last objective is to verify that the equipment and controls work just as well as we said they would. Whether this involves convey rate, bulk bag fill rate and accuracy, powder breakdown or anything else, it's important to us to stand by our promises. The PQ process is designed to demonstrate this in tangible form. First, we repeat our pre-op checklist to make sure nothing has changed since OQ. Then, we document individual run parameters and the corresponding results as the system is brought to optimal performance. The site settings table is issued once we have proven the design specifications meet your performance standards and can be used to show the best settings to achieve the desired result.
Training
A properly installed and operational system is a significant milestone in the lifecycle of any project, but it is just the start. The success of a system can come down to one critical element—training. We make sure your team has the knowledge to use and care for the equipment on a long-term basis.
Onsite Education
We can create a training plan based on the system and the needs of the operating personnel. Training can be done in a classroom setting, out on the production line, or as a combination of both.
Training Materials
For your convenience and to help you get any new staff up to speed, we also produce quick-reference guides for many common pieces of equipment. These handy guides primarily use pictures to walk through assembly, disassembly, cleaning, seal replacement and other tasks.
Other Materials
The quick-reference guides are an excellent complement to the installation, operation and maintenance manual we provide. This includes all drawings and information for your particular equipment. We list the times for regularly scheduled maintenance such as seal and bearing replacement, oil changes and belt changes. At the end of the manual is a spare parts list that includes part numbers, cost and lead time as well as an inventory of critical spares that we recommend having on hand. We aim to keep you running at all times.
Performance Audits
Performance audits assure your component or system is operating correctly after you have begun processing. Following an audit, we will send you a report of our observations, analyses, conclusions and recommendations. These audits also provide an opportunity for additional training of your staff. Learn more >
Do you process food, dairy or nutritional powders? Connect with us!