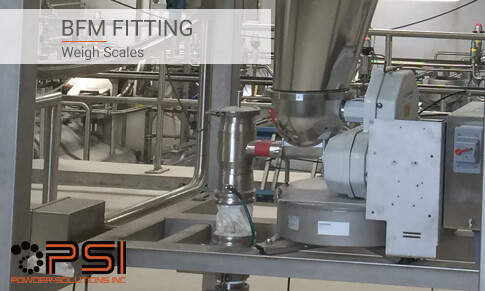 BFM fittings on Weigh Scales
Many weighing and weigh scales applications utilize flexible connectors, specifically BFM fittings. We've had customer's voice concerns over how BFM fittings will affect the equipment's weighing functions.  Weighing applications can be challenging since you don't want the rigidity of the sleeve to effect the outcome of the weighing taking place.
BFM® offers lightweight connector designs that can optimize your weighing equipment accuracy & repeatability while still providing the dust-tight containment of your powders.
When it comes to specific sleeve materials, there are two main sleeves you could use in this situation. Typically, most weighing applications will require one of the following sleeve.
The Seeflex 020E flexible connector is a clear ether based thermoplastic polyurethane alloy, but thinner than typical Seeflex 040E sleeve. Seeflex 020E sleeves are design specifically for load and weigh scale type applications. Its lightweight flexibility is also durable, as it won't fracture as a result of constant flexing. This is the ideal sleeve selection to avoid any
The Flexi-Light Connector serves as an ideal solutions for applications that require vertical and horizontal isolation from mating equipment. This sleeve is another option as it offers increased flexibility without the risk of connector collapse from pressure fluctuations due to the wire coil.
Along with many other BFM® fitting designs, these three sleeves are USDA Dairy accepted & meet 3A Sanitary Standards making them suited for the most stringent hygienic applications.
As the #1 stocking US Distributor, we continue to strive to inform & educate our valuable customers while fulfilling orders faster than the competition.
Our engineers on hand are always available to assist with complicated and challenging installations, so please don't ever hesitate to call us at 877-236-3539 or fill out the form below for assistance.