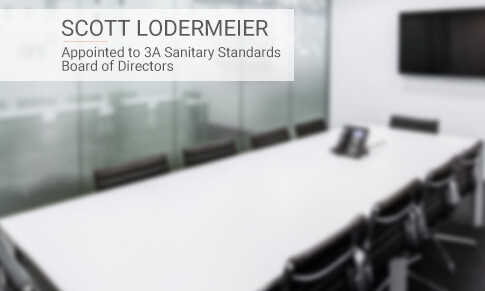 Scott Lodermeier Appointed to 3A Sanitary Standards Board of Directors
For immediate release
Powder Process-Solutions, an industry leader in the custom design and manufacturing of sanitary pneumatic conveying and bulk powder handling equipment, is pleased to announce Scott Lodermeier has been appointed to the board of directors of 3-A Sanitary Standards, Inc.
Lodermeier was nominated for the position after 17 years of active membership and four years chairing the conveyor and feeder work group 6. His term began in January 2021 and offers three years of service. He id on the board which is made up of six voting members, two from each of the three stakeholder groups.
3A Sanitary Standards was incorporated in 2002 to serve as a not-for-profit corporation dedicated to the mission of advancing food safety, by establishing standards for the hygienic design of equipment used in the dairy industry.   3-A SSI helps improve equipment design and sanitation for regulatory sanitarians, equipment fabricators, and processors.
When asked what he is most looking forward to as being a part of the 3A SSI board, Lodermeier stated that his main priority will be to promote active 3-A volunteer participation within the industry by effectively promoting the value of the 3-A symbol.  "I hope to achieve this goal by encouraging member involvement in work groups that will contribute strategies to successfully accomplish the 3-A mission." he said.
Lodermeier has worked for Powder Process-Solutions since 2002, most recently in component sales and support. His focus on valves has facilitated a deep understanding of attention to detail, sanitary requirements, and customization necessary for the dairy industries. By joining the board, Lodermeier will be afforded the opportunity to be on the forefront of sanitary equipment standards, writing and revisions, that directly affect Powder Process-Solutions and other companies alike.