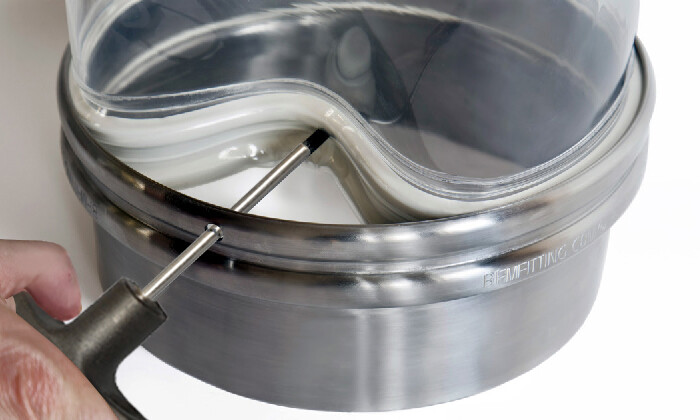 Product Focus: BFM® fitting Tool Release System
The Tool Release connector is ideal for situations where applications are mounted close to equipment that can cause injury if easily accessible, such as screw feeders, rotary valves, and mixers.
How does the tool release system differ from your typical BFM® flexible connector and how does it make your facility safer? Before installing a Tool Release connector, a 6mm (.6cm) hole is drilled in a standard spigot. Tool release connectors cannot be removed by hand as they have a much firmer snapband. Instead, they require a tool for proper removal, which is inserted into the 6mm hole in the spigot, releasing the band and greatly reducing the risk of injury.
The BFM® TR (Tool Release) Connector has been developed for applications where the connector is mounted very close to equipment that is rotating or spinning very fast, providing additional safety for production and maintenance staff. The Snap Ring of the BFM® TR connector is manufactured to have a firmer fit than an a standard connector which also makes it ideal for negative pressure (vacuum) applications.
Want to see the Tool Release BFM® fitting in action? View it by clicking on the image below.
If you think this might be a possible solution for your facility or have application specific questions, please contact us or call #952-279-5449.