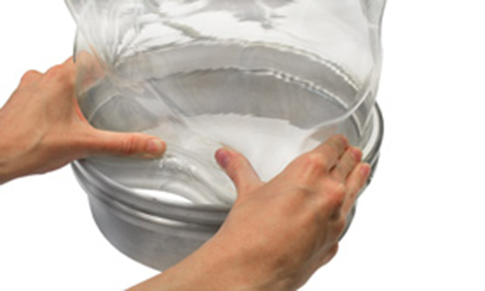 4 Industries Made Safer, More Sanitary & More Efficient by BFM® Fittings
For bulk powder processing plants, there's always an emphasis placed on ensuring the highest standards of sanitation, safety and efficiency. But there are points in the production process where dust exposure can compromise each of these three powder processing pillars. Dust can lead to production contamination, require extensive cleaning, and increase the risk of dust explosions.
Connectors are especially vulnerable to dust leakage.
For years bulk powder processing plants used flexible sleeves fastened with hose clamps as a means of connecting different stages of production. While flexible sleeves and hose clamps can get the job done, the headaches and additional work they put upon plants to deal with the repercussions of dust makes them less-than ideal.
Enter the BFM® fitting.
The BFM® fitting is a flexible connector system that minimizes the cumbersome upkeep of having a hose clamp connector system. With a BFM® fitting, a plant can improve sanitation, safety and efficiency, and ultimately streamline operations.
Below we dive into four of the industries that BFM® fittings are the perfect fit for.
1. Food & Dairy
The food and dairy processing industries require plants to pay the highest regard to hygiene and sanitation to stay in compliance with FDA regulations and to protect consumers.
The BFM® fitting features a crevice free interior surface designed to eliminate trapped powder, and its tight snap placement eliminates the threat of powder leakage. By not trapping or leaking powder, bulk powder processing plants can instantly alleviate two of the main culprits of unsanitary working conditions and help ensure product quality.
2. Pharmaceutical
For bulk power processors who work with pharmaceutical products, absolute containment of powder is critical. Product leakage can lead to powdery dust clouds that contribute to unsafe environments for plant workers and dangerous cross-contamination risks for consumers.
The BFM® fitting flexible sleeve has top and bottom snap bands that ensure a tight fit. There are no clamps that can loosen over time, so product is contained, product sanitation is improved and the risk of a costly dust explosion can be mitigated.
3. Chemical
Like the pharmaceutical industry, the chemical industry needs a clean plant environment to ensure safety, sanitation and efficiency are being prioritized. With outdated hose clamps, chemical manufacturers find themselves devoting an undesirable portion of their time to cleaning up spilt product and fastening leaky clamps.
Since BFM® fittings seal from the inside, the number of spills and leaks can be decreased dramatically—saving plants from time-consuming cleaning and potential downtime.
4. Minerals
The abrasive and corrosive nature of materials used by the minerals industry takes a toll on production. When the stages of production are paused to clean or repair corroded connectors or to clean up spills, a plant loses money by the minute.
The smooth, snap-in design of a BFM® fitting requires no tools for installation, which makes them easy and fast to install. In addition to less time being spent on changing and repairing sleeves, BFM® fittings also have no wear points and last longer. Of course, less maintenance and repair also means less downtime and cost savings.
Learn More About BFM® Fittings from Powder Solutions
Powder manufacturers strive to create a sanitary, safe and efficient plant environment. By using a BFM® fitting flexible connection system, plants can greatly improve all three areas.
To learn more about BFM® fittings and to request a quote from Powder Solutions, get in touch with us today or visit our the BFM® fitting product page.