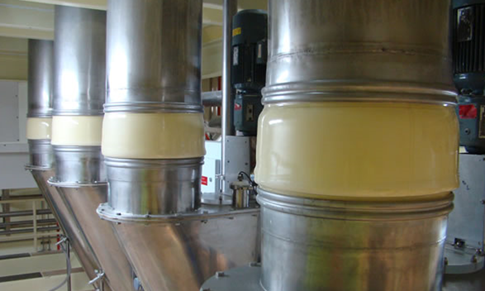 Food Powder Processing Safe from Cross-Contamination
Bulk food powder processing plants are responsible for much of the food we eat.  Many staples including grain and peanuts must pass through bulk food powder processing plants prior to being made available to consumers.
With greater attention recently focused on the risks of exposure to food allergens, sanitation in bulk food processing plants has become paramount.  For bulk food powder processors, this means working overtime to ensure sanitary connections in their process lines, minimizing the threat of cross-contamination.
Unfortunately, standard hose clamps and flexible connectors that have long been used as processing equipment connections make modern sanitation requirements exceptionally difficult.  These antiquated connectors, prone to leakage and powder build-up, are among the chief culprits of cross contamination and sanitation risks in bulk food powder processing plants.
Meet the BFM® fitting.
Comprised of two basic elements, the USDA Accepted/3A Certified BFM® fitting consists of a flexible sleeve with integral top and bottom stainless steel snap bands, and two matched formed spigots (welded in place).
Its airtight connection ensures sanitary powders and food product are closely contained all throughout processing, and its crevice free interior surface eliminates the risk of trapped food particles.
The BFM® sleeve quickly snaps into and out of place using only an operator's hands, making the cleaning, sanitizing and replacement processes fast and efficient.  By replacing the old style flexible sleeve and hose clamp, this revolutionary fitting ensures bulk power processors in the food industry produce pure, uncontaminated food product.
The BFM® fitting can be customized to connect most applications in your food powder processing facility, including:
Filling lines
Sifters
Baghouses and cyclone discharges
Load out chutes
Conveyors
Many More