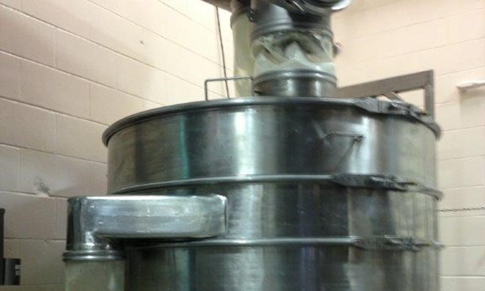 Dairy Bulk Powder Processing Becomes More Sanitary
For years, powder processors in the dairy industry have relied on old fashioned flexible connectors and hose clamps for their processing equipment connections. Shortcomings of connectors held with hose clamps include powder leakage, build-up underneath the sleeve, and inconsistent installation practices.
In the dairy industry, where milk powders are transformed into such diverse products as cheese, nutritional mixes and infant formula, the risks aren't just unsanitary working conditions – but bacteria growth and contamination in the product.
Powder processors in the dairy industry work diligently to minimize the limitations and nuisance of hose clamps and old fashioned flexible connectors.  But until now, there has never been a better solution.
Meet the BFM® fitting.
USDA Accepted and 3A Certified, the BFM® fitting consists of:
A flexible, dust tight sleeve with integral top and bottom snap bands.
Two matching spigots, welded into place.
The BFM® sleeve's crevice free interior surface is designed to minimize the potential for trapped powder.  This makes the connector easy to clean and sanitize and reduces the chance for bacteria growth and cross contamination.
Stainless steel snap bands help the BFM® sleeve snap easily into place quickly and accurately using only the operator's hands.  This ensures that the cleaning and sanitizing process in dairy bulk powder processing plants is no longer a time consuming hassle.
Customizable BFM® spigots will securely fit most applications and equipment in your dairy bulk powder processing facility, including:
Fluid bed powder and air connections
Sifters
Baghouses and cyclone discharges
Powder chutes and duct work
Conveyors
Filling lines
Many More!