Central vacuum cleaning systems are an economical and convenient solution, designed to improve sanitation in food, dairy and pharmaceutical processing facilities by eliminating the inconvenience of portable vacuum cleaners. Each system includes a centralized waste receiving hopper & vacuum pump. The vacuum system is connected to a reticulated pipe network throughout the required areas with inlet isolation flap valves positioned in convenient locations.
Our vacuum systems are designed for multiple simultaneous users and maximum cleaning efficiency of your facility. A variety of hoses and nozzle fittings are available to facilitate effective cleaning of floors, halls, crevices, pipes, ductwork and machinery. Low maintenance and our easy to use designs allow for pipework that doesn't plug.
Features
Sanitary 304 stainless steel construction
High capacity vacuum pump
High efficiency filtrations systems with compressed air jet pulse cleaning
2nd stage backup filter
Anti-static hoses
Aluminum inlet hose connection valves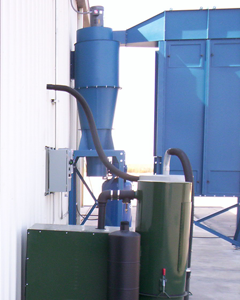 Benefits
Eliminates the need for shop-vacs not suited for daily use
Eliminates pushing powder with brooms or compressed air
Eliminates hauling collected waste to remote waste receptacles
Minimizes clean up time, while maximizing clean up efficiency of your cleaning crew
Available Options

Wide variety of hose and nozzle fittings (including extensions, curved, corner, crevice, etc.)
Explosion and flameproof designs
Waste collection options include drums, bags or bins
Continuous or intermittent dumping of collected waste
Waste compaction systems
Mobile collection systems
At Powder Process-Solutions, we will observe and analyze your vacuum and clean up needs to design and offer the right central vacuum system to get the job done efficiently. With accurate pump and pipe sizing, along with system routing and waste collection, facility cleanup is convenient and economical.
Powder handling is more than just putting components together. At PPS, we design custom, sanitary solutions for your valuable powder. Fill out your information to the right and we will contact you within one business day to discuss your powder processing needs.
Do you process food, dairy or nutritional powders? Connect with Us!