Magnetic separators remove dangerous metal contaminants from powders in the food, dairy, and nutritional processing industries. Powder Process-Solutions specializes in supplying and integrating magnetic separators for your dry bulk powder processing system.
Through a wide variety of food grade and sanitary magnetic separator designs, PPS is able to properly outfit your level of sanitation, installation location, cleanability requirements, and design features required for success.
By considering characteristics particular to your system, we will help select a magnetic separator based on:
Flow characteristics
Cleanability
Product moisture content
Operating temperature
Design requirements
Grate Magnets
Grate magnets remove ferrous metal material from free-flowing powders and granular materials. Commonly seen in drawer-style housings, grate magnets can also be installed at the bottom of hoppers and closed chutes. Simple design and operation lead to superior protection from tramp metal.
Features
High strength rare earth magnets
Food grade or sanitary magnet designs
Standard & custom sizes available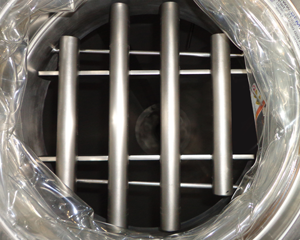 Rotary Magnets
PPS rotary magnets are designed to remove ferrous particles from powder flows that typically clog stationary grates. The rotary design moves powerful magnet rods through the powder stream, increasing the magnet to powder contact ratio. This slow rotation also prevents product from bridging and packing. Lumps and cohesive powders are broken apart.
Features
High strength rare earth magnets
Demountable, tool-free design for easy cleaning and maintenance
Custom designed housings and process connections
Dust tight, sanitary construction (including USDA Dairy)
Every magnet rod is pull tested and documented
All Powder Process-Solution magnet separators and housings are designed for the flow characteristics of your powder.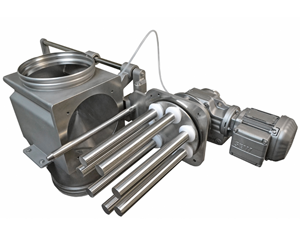 Inline Plate Magnet
The inline plate magnet features a stepped plate magnet design to efficiently capture and retain ferrous materials in a conveyed powder stream. The precision machined housing and one piece O-ring seal is designed for leak-free operation in pressure and vacuum systems up to 15 PSIG.
Features
Demountable without tools
Magnetic protection without restricting powder flow
Available in 3", 4", 5", and 6" designs, custom sizes available
8,000 gauss plus rare earth magnet provides maximum cleaning efficiency
Mounted vertically or horizontally
Single and dual magnet designs available
Inline plate magnet solutions are offered with single and dual plate magnet designs for redundant protection or increased separation performance in larger diameter line sizes.
Available in 3", 4", 5", & 6" line sizes with plain tube, Tri-Clamp, BSM, flanged and custom end connections.
The plate is secured by multiple quick release nuts, allowing the plate to be swung away from the unit for easy access, cleaning, and inspection.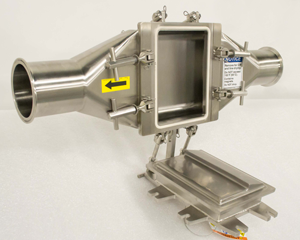 Do you process food, dairy or nutritional powders? Connect with us!