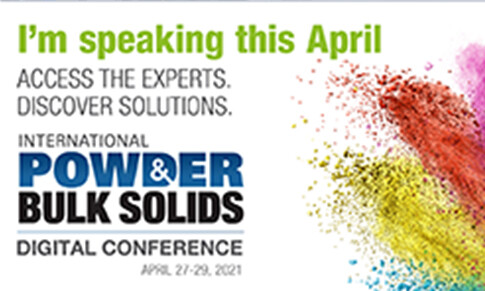 Steve Wicklund to Speak at iPBS Digital Conference 2021
The International Powder & Bulk Solids (iPBS) Conference & Exhibition, North America's longest-running and largest powder & bulk solids technology event often referred to as "The Powder Show," will be hosting the iPBS Digital Conference run over three days this coming April 27-29.
The three-day conference offers access to top-level industry experts, critical education, and practical guidance to help solve your toughest process engineering challenges
Powder Process-Solutions' own Steve Wicklund will be presenting at the event. After nearly 14 years in the powder handling industry, he'll be contributing his knowledge in two specific areas to further the industries growth and understanding in critical powder processing categories.
Digital Conference Workshops
Workshop Part II: Conveying Breakout – Pneumatic Conveying in the Food & Dairy Industry – Runs 4/28/2021 3:00-4:00 pm
Get practical guidance on pneumatic conveying in the food & dairy industry. Learn how to select the right pneumatic conveyor for your application and keep it running efficiently and safely.
Workshop Part II: Processing & Quality Breakout – Powder Mixing Basics in the Food & Nutrition Industry – Runs 4/29/2021 3:00 – 4:00 pm
Attend this session to gain an understanding of the key factors which are essential to ensure product quality, maximized process efficiencies and profitability in your food and nutrition powder blending process.
"The workshops, product demos, and industry panels we have developed for the iPBS Digital Conference will provide the quality technical content we have brought the bulk and powder handling community for over 40 years at our in-person biennial conferences," said Steve Everly, iPBS Group Event Director.
"We understand, however, that over the past year, the pandemic caused a lot of change to the industries we serve. This year, we will continue to provide the technical workshops for which the conference is known. Our new offering, the Leadership & Strategy Summit will provide a business perspective and help our attendees develop their strategies for growth as we emerge from the COVID-19 era."
An added bonus of the Technical Conference is the opportunity to earn up to 30 valuable IEEE professional development hours (PDHs).
If you're ready to sign up, get your pass here and stop into Steve's workshops!