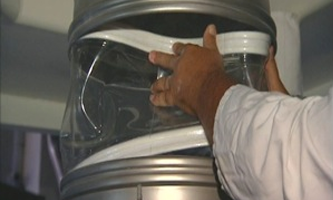 How BFM® Fittings Solved 5 Issues for a Leading Powder Coating Company
While paint powders provide vibrant and beautiful additions to products in many sectors of the world, they're messy—really messy.
But for Peridium Powder Coatings, a division of Vogel Industrial Coatings and an industry leader in paint and coatings processing, difficult and messy production and cleanups was a normal part of operations—until they found BFM® fittings.
During their initial processing, equipment connectors consisted of plastic material fastened with tape was used as the flexible connector system to contain paint powders flowing from one component to another.
"[The] setup was wasteful; we used a lot of garbage bags and tape, and it was inconvenient to always clean and install," Tom Hubers, corporate engineer at Peridium Powder Coatings, said.
A production manager suggested that BFM® fittings may be a solution. As it turned out, it was a great fit.
Below we dive into how BFM® fittings helped solve a number of issues for Peridium Powder Coatings.
1. Reduction of Lost Product
The plastic and tape system that Peridium Powder Coatings had in place was prone to what the company categorized as "blow outs." A blow out was classified as any situation where the plastic would rip or the tape would come loose on the equipment connection to cause product to spill out.
By switching to BFM® fittings, the company was able to eliminate blow-out scenarios. BFM® fittings seal air-tight to prevent product leakage. In high pressure situations, the seal becomes even tighter.
2. Decreased Waste
In addition to reducing the amount of valuable lost product, Peridium Powder Coatings was able to greatly reduce the wasteful use of garbage bags, tape and other materials necessary to keep product flowing.
3. Increased Efficiency
As Hubers said, the company's plastic and tape connector system was a huge inconvenience. Not only was it time-consuming to clean and install, but blow outs caused lengthy cleanups as well as costly downtime.
BFM® fittings feature a smooth snap-in design that requires no tools for installation, which allows the company to quickly and easily install the sleeves. In addition, the design allows no room for error during the installation process, saving time spent on the installation process itself and troubleshooting issues from improperly installed sleeves—and less production downtime.
4. Improved Sanitation
Like all processing plants, sanitation is paramount to Peridium Powder Coatings. BFM® fittings have a crevice-free interior surface that doesn't trap powder, making the sleeves easy to clean to prevent cross-contamination of pigments. In addition, that air tight seal prevents product leakage that can lead to cross-contamination.
5. Enhanced Safety
The blow out scenarios posed a potentially serious safety risk to plant staff and the work environment. Because BFM® fittings seal tighter under pressure, they now provide Peridium Powder Coatings superior explosion protection in over-pressure situations.
To learn more about BFM® fittings, get in touch with us today.